CORNWALL CROQUET CLUB - GOLF-CROQUET DOUBLES TOURNAMENT
Sat & Sun 21 & 22 Jun 2008
Ten pairs played in the Club Golf-Croquet Doubles Tournament - in all, 24 matches (each the best of three games) were played over the two days, many being closely fought; only seven matches were decided in two games, and several were tied.
The weather on Saturday was dull and cold, with drizzle at times, but Sunday gave a lovely breezy, day and a perfect setting for the remaining, preliminary games.
In the afternoon, the semi-finals and the final all produced close matches and plenty of interest for the spectators.
The final, between Des Honey & Ian Williams and Barry & David Edwards could not have produced a closer result. The first game was tied with 5 hoops each, the score having been 5-0 at one time, and a ball in position to run a hoop as time was called. The second and third games were equally close, with honours at one game all. The stalemate had to be broken with a golden hoop, which was won, eventually, by the David Edwards.
The other semi-finalists were Lynda Everett & Joyce Wilson and Jenny Burrows & Audrey Copus, withJenny & Audrey eventually winning third place and Lynda & Joyce fourth place.
The cup was presented by the Club Chairman, Ron George, who congratulated the finalists for producing an exciting contest. He thanked everybody for competing with a great spirit; thus easing his job as referee and competition manager.
Thanks to Ron, and to all who had made the event so successful, were given by the club President, Howard Rosevear.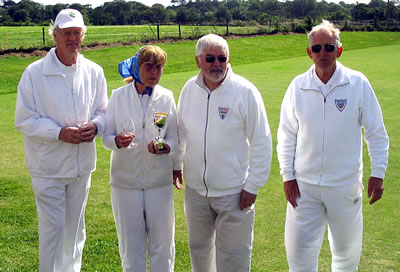 Finalists, left to right:

David & Barry Edwards(Winners),
Des Honey & Ian Williams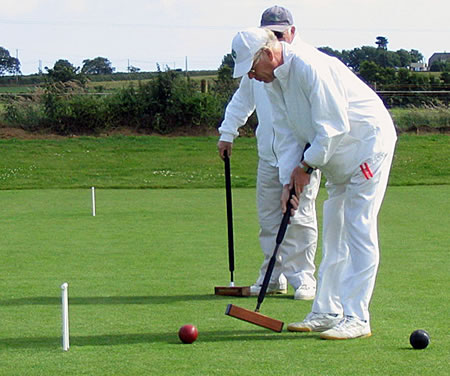 Golden Hoop.

David Edwards
running the winning hoop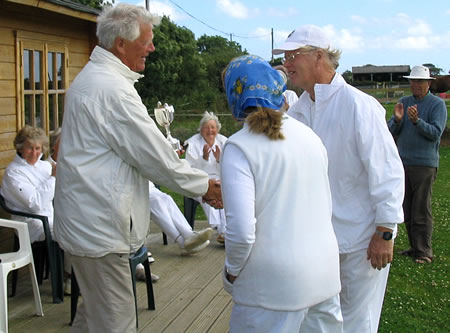 The Winners.

Ron George(club chairman) congratulating the winners