SWF Federation League v Exeter (played at Cornwall)
Sun 15 Jun 2008
Cornwall played their last match of the season in the SWF Federation
League series at home against Exeter on Sunday 15 June.
Doubles: Ian Wilson (6) & Stephen read (14) of Cornwall lost narrowly
-2 on time (13-15) to Harry Migley (7) & Roger Thorn (12) in a tight match.
Singles: Richard Griffiths (0), Cornwall's Captain, beat Richard Hichens (10)
+11, Nigel Grant (8), Cornwall, lost to the very consistent Adam
Wimshurst (6) -2 on time (21-23) in another tight struggle, Ian Wilson lost to
Harry Midgley -8, Nigel Grant had a good win against Richard Hichens
+10 and Stephen Read lost narrowly to Roger Thorn -1 on time (12-13).
Final Score: Cornwall 2 Exeter 5.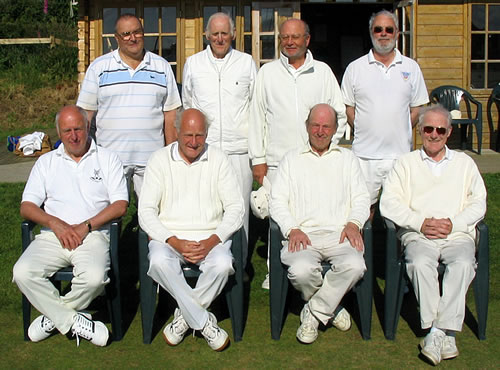 Cornwall - standing: -
Nigel Grant, Stephen Read, Richard Griffiths, Ian Wilson.
Exeter - seated: -
Harry Midgley, Adam Winshurst, Roger Thorn, Richard Hichens.
Photo c/o Stephen Read, taken by
Joyce Wilson.