SWF Intermediate League v Torbay (played at Torbay)
Fri 13 Jun 2008.
Another win for Cornwall Croquet Club
Cornwall Croquet Club's first South West Federation Intermediate League away match was played at Torbay on Friday June 13th - with tournament rules requiring a positive result, it was bound to be unlucky for some. Torbay, struggling for members, and having only just started playing on their re-located lawns, came to the game with little match practice.
In the morning doubles, Cornwall's Audrey Copus and David Edwards enjoyed a comprehensive 26-6 win against an off-form Ian Payne, and the less experienced Chris Smith. Stephen Read took on Torbay's top player, Neil Millward, and took an early lead before Millward settled in and took charge, winning 26-10.
In the afternoon singles Read hit excellent form, and with breaks of 9 & 6, beat Smith 26-7. Copus, up against Millward, and playing in her first Intermediate League match, put up a determined fight and emerged with a very creditable 15 points, Millward winning 26-15.
The overall result depended on the outcome of the last match to finish, Edwards against Payne, who had very much recovered his form. In a close game, Edwards held a slight lead for most of the time, but with some erratic play, seemed at times intent on giving the game to Torbay. However, under the nervous gaze of Read & Copus, he finally regained control to win 24-19.
This result gives Cornwall's Intermedaite Team a so-far unbeaten record.
Final Score:

Cornwall 3 Torbay 2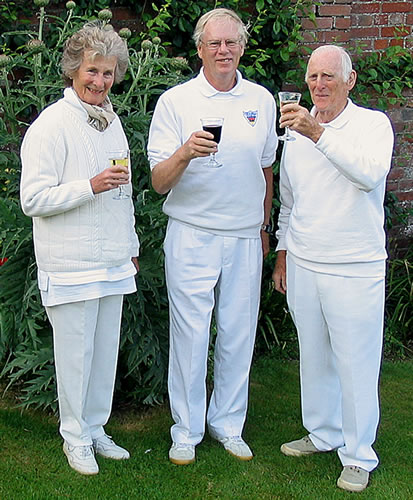 The Cornwall Team celebrating their win.
Left to Right: Audrey Copus, David Edwards, Stephen Read.
Photo by Stephen Read