SWF Intermediate League v Plymouth
Tue 3 Jun 2008 (played at Cornwall)
Sunshine, but a cool breeze, greeted the teams when Cornwall Croquet Club entertained Plymouth in the second of the season's South West Federation Intermediate League matches. With three players per side, the format was a doubles and one singles game in the morning, and three singles in the afternoon.
In the doubles, Cornwall's David Edwards & Malcolm Hooper got off to a slow start against Ann Parry & Marjorie Barker, but after Plymouth had used up their "free turns" - these to balance the players' handicaps - Cornwall started to progress, & finally won 26-15. Stephen Read played Brian Stephens of Plymouth, a very tight match resulting in a win for Brian 16-15. So, at lunch, 1 game each.
In the afternoon singles, Hooper beat Barker comfortably, 26-16, managing a full 12 hoop break. Edwards got his revenge for a recent defeat by Stephens with an emphatic 26-6 win. In the last game to finish, Read had established what seemed to be a safe lead against Parry, but all was not over, as Parry fought back to leave a nail-bitingly close finish which could have gone either way. Finally, in the last seconds of the game, Read was able to peg out, winning 26-23.
Final Score: Cornwall 4, Plymouth 1.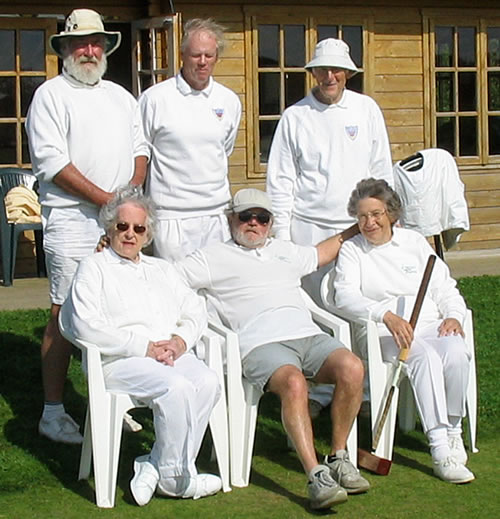 Plymouth - seated.
Marjorie Barker(P),
Brian Stephens(P),
Ann Parry(P).

Cornwall - standing.
Malcolm Hooper(C),
David Edwards(C),
Stephen Read(C).
Photo by Stephen Read.