SWF Golf Croquet League
Tue 13 May 2008
Tuesday May 13th saw the second of Cornwall Croquet Club's South West Federation Golf Croquet League matches of the season, a home fixture against Sidmouth. In perfect conditions of warm sun and a light breeze, full teams of eight per side competed in what some would say is the rather simpler form of the croquet. Cornwall had beaten Sidmouth in 2007, but expected a hard tussle against a club with more than twice as many playing members.
The match involved twenty games - sixteen singles, and four doubles. Twelve singles were played in the morning session, and rather to everybody's surprise, by lunch, Cornwall had won ten. The afternoon saw the four remaining singles, before the match ended with the doubles. All the singles went Cornwall's way, but Sidmouth, not going down without showing their spirit, halved the doubles with two wins.
Final Score:

Cornwall 16 Sidmouth 4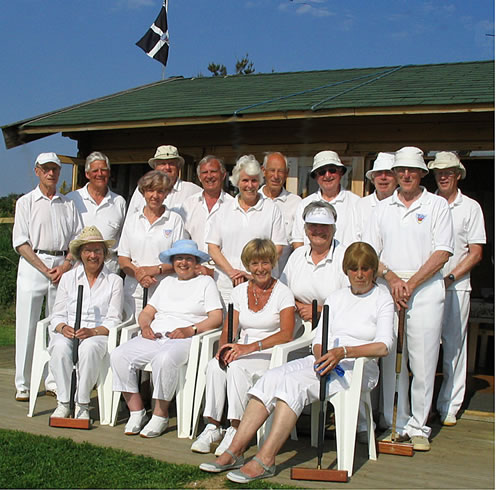 Seated. Pam Bowdra(S), Margaret Piper(S), Muriel Phillpott(S), Barry Edwards(C).
Middle Row. Jenny Burrows(C), Elizabeth Schofield(C), Joyce Wilson(C).
Back Row. Tony Phillpott(S), Ron George(C), Derek Hewett(S), John Dixon(S), Michael Hyde(S),Ian Friedlander(S), Paul Schofield(C), Stephen Read(C), David Edwards(C).
Photo by Stephen Read.