AGM - 16 Mar 2008 (at Polgooth Institute 1500 hrs)
CHAIRMAN'S FAREWELL AT AGM
Cornwall Croquet Club's 2008 AGM was an occasion for celebration and farewell.
Tony Backhouse, retiring Chairman, reported the healthy state of the club, and enumerated the successes of teams of players in South West Federation events throughout the summer of 2007.
Kathleen Moorshead was presented with the Daphne Jennings Trophy for the most inproved female player for the past year.
Colin Hadley was congratulated on leading the B League team to the semi-final versus Nailsea.
Howard Rosevear, Club President, paid tribiute to Tony Backhouse who has been associated with the club from its inception at a meeting of 7 people in the basement of Bustopher Jones wine bar in Truro on 9th August 1995, he followed this up by becoming chairman/secretary in 1998.
Ian Wilson joined the club in May 1998 and proved an invaluable co-worker, having previous experience with the Nailsea Club.
Play at this time was mostly on private lawns, but the search for a permanent home for the club ended in 2003 when Howard Rosevear announced he would proceed immediately with the construction of 2 courts at Porthpean.
The next 5 years have seen the club grow from strength to strength.
Gifts to Tony included a watercolour, painted by Committee Member, Joyce Wilson, a statuette of a Great Dane (similar to Tony's Judy), and finally an entry to the National Veterans' Tournament at Budleigh Salterton in June with a hotel stay for himself and his wife, Pam.
Ron George, who has been the club's Golf Croquet captain and referee, now takes over as chairman.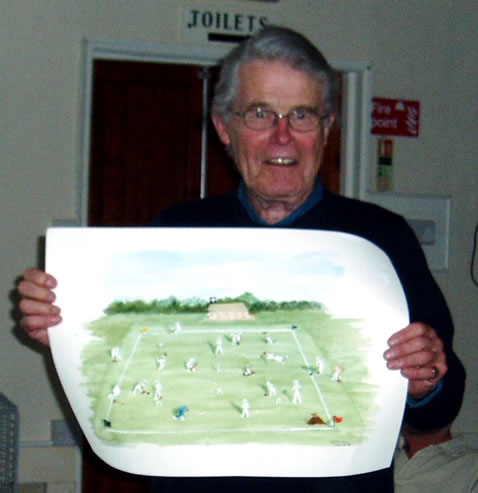 Tony Backhouse,
retiring Cchairman
with watercolour
painted by Joyce Wilson.
Photograph by
Rosemary Bradshaw.
---
Open Days will be held on Bank Holiday May 5th, and Sunday, 29th June, from 10.30 - 5pm.
Details : 01872 863192, or email from the link on home page.