Sunday 4 Nov, 2007
Presentation of Townsend Award to Cornwall Croquet Club
at the South West Federation of Croquet Clubs AGM (at Taunton)
NATIONAL AWARD FOR CROQUET CLUB
Cornwall Croquet Club are the proud holders of the Townsend Award Trophy for the next two years together with an inscribed plaque and a cheque for £100.
The Development Committee of the Croquet Association (parent body) chose Cornwall's 24 page submission from amongst others for this national award which is open to small clubs with one or two courts.
The judging criteria include : Facilities that the club has managed to develop off court; Development and quality of courts; Playing achievements; Participation in federation activities; Hosting of CA or Federation activities; Local and regional publicity; Fund raising events.
The judges were particularly impressed with the excellent coverage that the club receives from the County's media including all the local papers, BBC Radio Cornwall and the glossy Cornwall Today (see April 2005 front cover and article).
Enrolment, coaching and involvement with the local community also made a significant impact on the judges.
Tony Backhouse (Chairman), Malcolm Hooper (Tournament Secretary), Ian Wilson (ex Vice Chairman and Club Coach) and Rosemary Bradshaw (Publicity Secretary) represented Cornwall and Fowey at the South West Federation of Croquet Clubs AGM at Taunton where the presentation of the Award took place.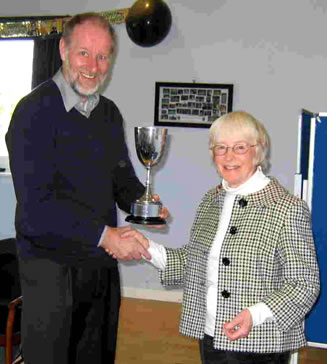 Rosemary Bradshaw (Publicity Secretary) receives the Townsend Award Trophy on behalf of Cornwall Croquet Club from John Grimshaw
Photo taken by Sue Mackay (Publicity South West Federation of Croquet Clubs)
---
Mild autumn weather has contributed to continuing play on the Club's courts at Porthpean, Club sessions being on Wednesday, Thursday and Saturdays at 1pm for the winter months when conditions allow.
The Club welcomes prospective new members, anyone wanting to try croquet, or existing players, to make contact as follows : Phone : 01726 832034, or email us from the link on our home page.