Friendly v Nailsea
Sat 6 Oct 2007 at Nailsea
Ten players from Cornwall Croquet Club made the 300 mile round trip to Nailsea, near Bristol, on
Saturday for a friendly match against the host club.
Three of Cornwall's players played Golf Croquet and shared the morning honours, Nailsea winning the doubles and Cornwall the singles. Cornwall edged ahead in the remaining matches where the singles were shared and Cornwall won the doubles.
Three Association Croquet doubles matches were played and resulted in a 2-1 victory for Nailsea,
although both victories were extremely close matches.
Three rounds of handicap singles matches were played during the day and Cornwall (including two local players as substitutes for the absent Cornwall chairman Tony Backhouse) won these matches 9-3.
Cornwall's captain, Nigel Grant, also completed a 26-9 victory in Advanced Singles.
Highlights of the day (other than the splendid lunch and tea generously provided) were perhaps the two Advanced Singles matches between two of the UK's highly ranked players, Kristian Chambers from Nailsea and Richard Griffiths from Cornwall. Honours were even with one win each.
Richard was buoyed by the news that he has been selected to represent Jersey in next year's Croquet World Championships in New Zealand.
An excellent and fun day was enjoyed by all and we look forward to a return visit by Nailsea to Cornwall Croquet Club's Porthpean lawns in 2008.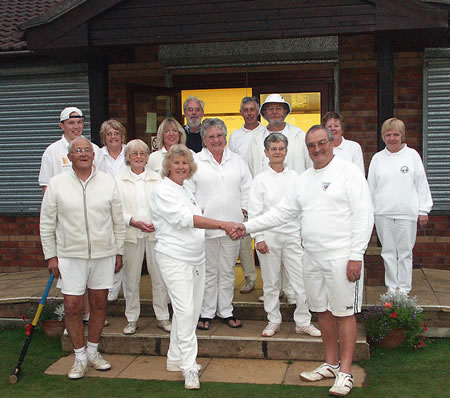 Some of the contestants.