A busy weekend for Cornwall Croquet Club with two match events

PRESIDENT'S CUP LEVEL PLAY TOURNAMENT
Sun 16 Sep 2007
There were 4 entrees, Tony Backhouse, Tony Jennings, Rosemary Bradshaw, and Malcolm Hooper, each playing 3 x 3 hour matches starting at 9am and finishing at 7pm.
Malcolm Hooper won the cup winning all three of his matches

SEMI-FINAL SW FEDERATION GOLF CROQUET LEAGUE
Sun 16 Sep 2007 at Taunton Deane
As Southern League winners, Cornwall Croquet Club met a team from Palace (Wells), Central League winners, in the semi-final of the SW Federation Golf Croquet League on Sun 16 Sep.
The match was held at Taunton Deane Croquet Club's ground, where the lead changed hands several times during the 20 games played.
Four games were halved and six ended with the winners having a lead of just one hoop.
When the final three games started, Cornwall needed either to win all three to win the match, or to win two and halve one to force a play-off game of doubles.
They won one and halved one, but were unfortunate then to lose the third by the narrowest of margins; so that the match ended in a win for Palace (Wells) by 11 points to 9.
In spite of the loss, everybody enjoyed the match, which was played with the usual very-friendly spirit by both teams.
Final Score: Wells 11 Cornwall 9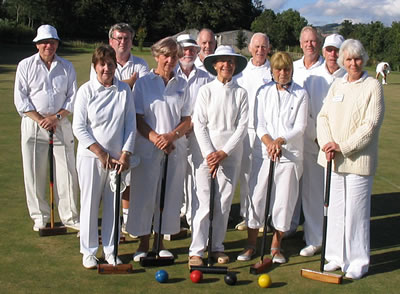 Back row:
Ray Bennett(PW), David Richards(PW),
John Clogg(PW), Peter Dexter(C),
Stephen Read(C), David Edwards(C),
Paul Schofield(C).
Front row:
Hilary Tudgee(PW), Jenny Burrows(C),
Margaret Read(C), Barrie Edwards(C),
Elizabeth Schofield(C).