SHORT CROQUET TOURNAMENT
Sun-Mon 26-27 Aug 2007
The Bank Holiday Weekend provided glorious sunshine for Cornwall's first ever Short Croquet Tournament.
Sixteen players competed for a new trophy donated by Tony Jennings, who was also the inspiration for, and manager of, this highly successful event.
Eight contestants in two blocks each playing seven games over two days, provided four finalists who fought alongside each other on the two Short Courts in front of the Club's Pavilion for the Trophy.
The audience were treated to two exciting closely contested games, with Ian Wilson emerging as the eventual winner, Stephen Read in 2nd place, John Dowding 3rd and Tony Backhouse 4th.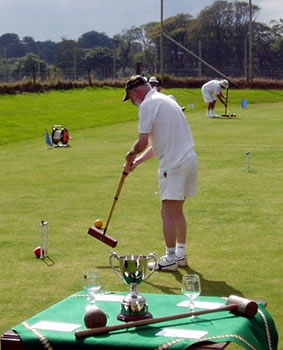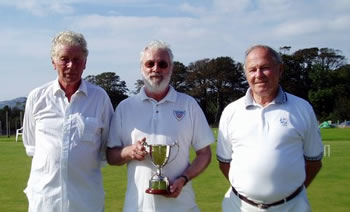 Above, Left to Right :
Tony Jennings (Short Croquet Tournament Manager),
Ian Wilson (Trophy Winner),
Howard Rosevear (Cornwall Croquet Club President).
Left: Ian Wilson runs Hoop 4 on the way to winning the Cornwall Croquet Club Short Croquet Trophy.
---
The Club's Summer Season will continue until the middle of October and potential new members are welcome to make contact: -
Phone : 01726 832034, or email us from the home page on this site.