Golf Croquet Tournament " Faith, Hoop & Hilarity"
Thu 16 Aug 2007
A very-successful afternoon of competitive Golf Croquet was held at the Cornwall Croquet Club at Porthpean.
A total of 24 players, in four blocks and on full lawns, enjoyed good weather to play 12 preliminary doubles matches to determine the semi-final places.
These were filled by the doubles pairs Howard Rosevear & Lea Diffard, Stephen Read & Tony Backhouse, Barry Edwards & Liz Honey and Margaret Read & John Dowding.
The final, between the Read/Backhouse and Read/Dowding pairs, was a close-fought match, with the former emerging winners by one hoop.
Other events organised during the afternoon were Target Croquet, won by Jenny Burrows and Eileen Keilbart, and Ricochet, won by Tony Jennings and Cynthia Dowding.
A quiz, held later in the clubhouse, was won by Joyce Wilson and Des Honey.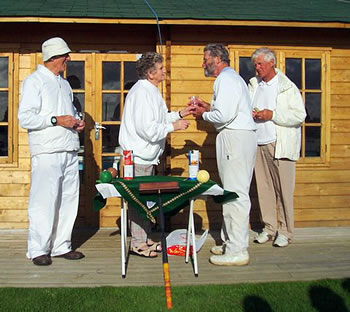 Winners of the Doubles: -

Tony Backhouse & Stephen Read
being presented with their prizes
by Shirley Rosevear (the President's wife)
with Ron George, the Tournament Organiser,
in the background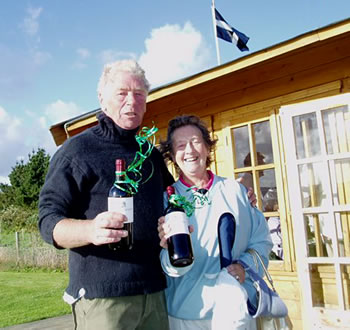 Winners of the Ricochet: -

Tony Jennings & Cynthia Dowding.