The Read Trophy (handicaps 16-24)
Sat-Sun 15-16 Aug 2007
WELL DESERVED VICTORY FOR COLIN HADLEY
Glorious weather was ideal for Cornwall Croquet Club's high handicap Read Trophy Tournament.
Nine players were divided into two blocks, Elizabeth Schofield, Barry Edwards, Pam George, Stephen Read and Colin Hadley, comprising one, and Margaret Read, Jenny Burrows, Rosemary
Bradshaw and Ron George in the other.
Colin Hadley was well in the lead at the end of play on Saturday, having won all his matches, and forged ahead again on Sunday with another win.
Ron George was well placed in the other block with 2 impressive wins, but Rosemary Bradshaw,also with 2 wins, ended up playing Colin in the final, as she had won her match with Ron on Saturday.
The balmy weather continued all Sunday afternoon for the final, with Colin forging ahead, but in the last half hour Rosemary started to catch up playing defensively and making one hoop at a time, however she failed an important hoop, so that Colin had a well deserved win - Plus 2 on Time.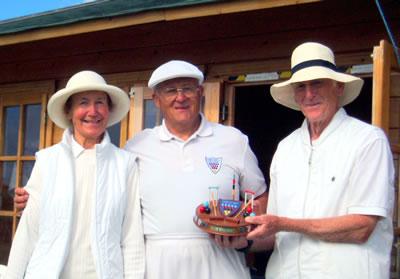 Colin Hadley (centre)
being presented with the Read Trophy
by Margaret & Stephen Read (donors).
---
Cornwall Croquet Club details from : 01726 832034 or email from the home page of this site.