SWF Intermediate league v Exeter (at Exeter)
Fri 10 Aug 2007
Cornwall Croquet Club's hopes of a win in the last of their 2007 Intermediate League matches were comprehensively dashed when they visited Exeter on August 10th. The games were played in perfect weather at Exeter.
Morning games - Cornwall names first - Paul Schofield (14) had a tight match against Francis Coles (12), losing -1 on time. Colin Hadley (18) put up a good fight against Roger Thorne (14) but went down -4 on time. Stephen Read & David Edwards managed a +7(T) win in the doubles against Ruth Urch (16) and Richard Hichens (11), after a very shaky start which was largely rescued by some accurate play by Read.
So 2:1 to Exeter at lunch, and Cornwall's hopes still high.
However, the afternoon singles did not go according to plan - at least, not to Cornwall's plan.
Schofield had another close game against Urch, but went down -2(T).
Hadley put up spirited fight against the more experienced Hichens, holding him well but finally losing -5(T).
An off-form Edwards was deservedly well beaten -10 by Thorne, who played consistently well. Read found himself up against Don Sheppard (16) who could do no wrong on the day.
Read failed to recapture his form of the morning and went down -20, never really getting into the game.
Final Score: Exeter 6, Cornwall 1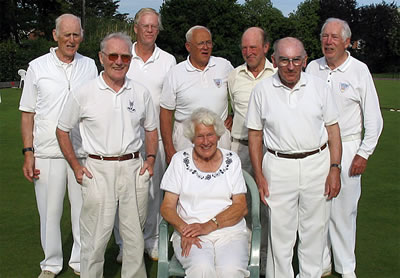 Stephen Read(C), Richard Hitchens(E),
David Edwards(C), Colin Hadley(C),
Roger Thorne(E), Don Shepherd(E),
Paul Schofield(C), Ruth Urch (E, seated).