LAST MEMBERS' ASSOCIATION CROQUET COACHING SESSION
Level 1 Session 2 on Sun Jul 22, 2007
Photos : Ian Wilson, Cornwall Croquet Club coaching Liz Honey.
It was a good weather day for the last Members' Association Croquet Coaching session this season, the Cornwall Club's coaches Nigel Grant and Ian Wilson provided an interesting and stimulating day for the participants.
Participants: Joyce Wilson, Frances Hindley, John Hindley, Liz Honey and Des Honey.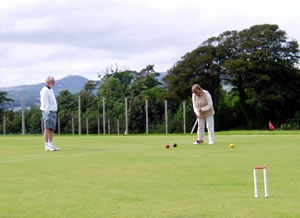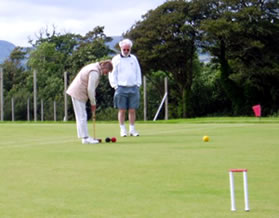 Ian Wilson, coaching Liz Honey
This group were Level 1, and three similar sessions have been held up to Level 4 for more experienced players, Nigel Grant, the Club's Lead Coach has thus provided an ongoing coaching
programme, which includes other sessions for Golf Croquet.
Members continue to enjoy Club Sessions, and there are still several internal tournaments coming up, some of the participants of Sunday's course will be playing in the Read Trophy on 11th/12th August.
---
Club details from : 01726 832034 or 71564, or email us from the home page