SWF 'B' League v Budleigh Salterton
Mon 18 Jun 2007 (at Porthpean)
CORNWALL WIN TO DEVON TEAM
A three man Cornwall team won convincingly to Devon's Budleigh Salterton in a home 'B' League match at Porthpean on Monday, 18th June 2007.
In the morning, Ron George and Tony Dyson beat Audrey Handley and Pat Meredith 14-2, and Colin Hadley beat Robert Golding 14-7.
The afternoon's Singles saw Ron George lose to Robert Golding 9-14, while Tony Dyson beat Pat Meredith 14-4, and Colin Hadley beat to Audrey Handley 14-7 .
All 5 games resulted in Peg Outs - good to see, well done everyone.
Cornwall's Chairman, Tony Backhouse, acted as Referee and the Budleigh Salterton team were accompanied by their Non-Playing Captain, Marie Lester.
Result: Cornwall 4 Budleigh 1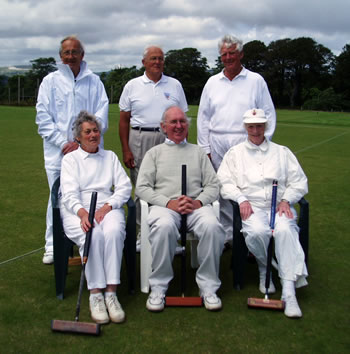 Left to Right, Back Row :

Cornwall : Tony Dyson, Colin Hadley (Captain),
Ron George.
Left to Right, Front Row ;

Budleigh Salterton : Audrey Handley,
Robert Golding, Pat Meredith.

---
There is still an opportunity this season for croquet novices to join as temporary members and benefit from coaching, possibly leading on to full membership for those so inclined.
Details : 01726 832034/66534 or email from our home page.