SWF 'B' League v Torbay (at Cornwall)
Sat 2 June 2007
MIST CLEARS FOR CORNWALL'S VICTORY
Torbay's B League Team of three arrived at Porthpean on the morning of Saturday, June 2nd 2007, to find Cornwall's courts at Porthpean shrouded in mist, with the corner flags hardly visible.
Luckily things improved so that the morning's play started on time, Ron George and Tony Dyson winning the Doubles + 9 against Torbay's Chris Smith and John Williams and Paul Schofield losing to Torbay's Roland Murdock - 5 in the Singles.
Each of the afternoon's games, all singles, went to a peg out, Cornwall winning 2 to Torbay's 1.
Thus a win for Cornwall in their first B League match this season 3 : 2.
Cornwall's non playing captain was Colin Hadley with their main coach, Nigel Grant, acting as referee.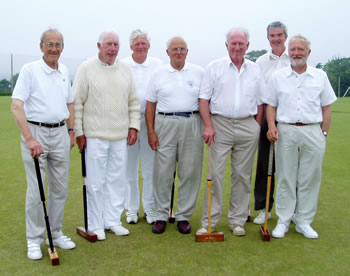 Tony Dyson (C), Paul Schofield (C),
Ron George (C),
Colin Hadley (Cornwall non-playing Captain),
John Williams (T), Roland Murdoch (T)
and Chris Smith ( Torbay Captain).
Final Score: Cornwall 3, Sidmouth 2.
---
The club has enrolled several new members recently,
for details of membership ring : 01726 832034/71564,
or email us from the website at www.cornwall-croquet.org.uk