SWF Federation League v Sidmouth (at Home)
Thu 24 May 2007.
Cornwall Croquet Club's first SWF Federation League match of the season resulted in a 4-3 victory over visitors Sidmouth Croquet Club.
Our visitors were greeted with the most beautiful Cornish day at our courts at Porthpean.
Cornwall gained an early advantage by winning the morning matches 2-1.
Needing only two victories in the afternoon singles, Cornwall soon forged an unassailable lead with David Edwards and Nigel Grant gaining strong 'pegging out' victories.
David Edward's performance, 2 from 2 for the day, was particularly notable as he was playing for the first time off his new handicap of 14 (he is a rapid improver) and he beat his afternoon opponent 26-2!
Other team members were Malcolm Hooper and Tony Jennings and everyone played their part in an enjoyable and successful day's croquet.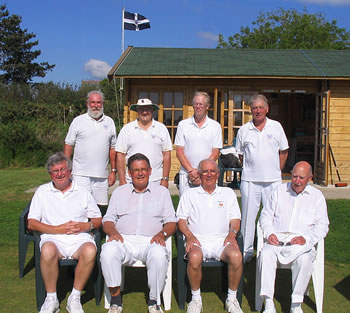 Left: Cornwall & Sidmouth Teams.

Sidmouth, seated left to right: -
Ian Friedlander, Peter Hill,
Derek Powell(Captain), Graham Harford.

Cornwall, standing left to right: -
Malcolm Hooper, Nigel Grant(captain),
David Edwards, Tony Jennings.
Below: Nigel Grant(Cornwall) pegging out.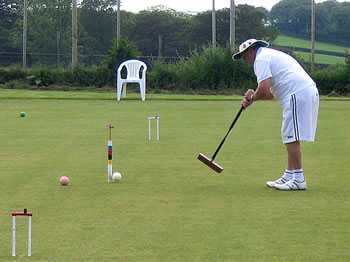 Results: Cornwall 4 Sidmouth 3
Edwards & Grant bt Friedlander & Powell 17-14
Hooper lost to Hills 10-13
Jennings bt Harford 13-12
Grant bt Friedlander 26-7
Hooper lost to Powell 13-20
Edwards bt Harford 26-2
Jennings lost to Hills 8-16