SWF INTERMEDIATE LEAGUE v TORBAY
Tuesday 8th May 2007
A SUCCESSFUL DEBUT FOR CORNWALL
Cornwall celebrated their debut into the Intermediate Level with a decisive win against Torbay on Tuesday 8th May 2007, led by Tony Jennings (Captain, non playing on this occasion due to a foot injury).
Playing at home (Porthpean) in wet conditions the sides were level at lunchtime, Nigel Grant
and David Edwards achieving a win, + 18 on time, against Torbay's Ray Dimes and Ian Payne in the Doubles, and Paul Schofield losing in the Singles to Neil Millward (Torbay
Captain), -5 on time.
The afternoon saw 3 wins for the home side, Nigel Grant pegging out against Neil Millward, + 15, David Edwards +7 on time to Ray Dimes, and Paul Schofield +5 on time to Ian Payne.
Results: Cornwall 4 Torbay 1.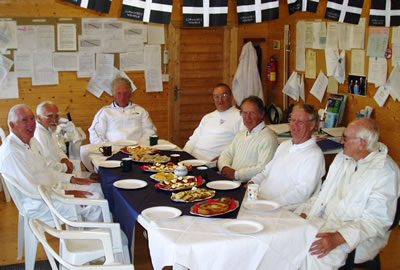 left to right:

Paul Schofield (Cornwall),
Ian Payne (Torbay),
Tony Jennings (Cornwall Captain),
Nigel Grant (Cornwall),
Neil Millward (Torbay Captain),
David Edwards (Cornwall)
and Roy Dimes (Torbay).