Pre-Silver Course - Mon April 16, 2007
Three members of Cornwall Croquet Club, with handicaps ranging from 7 to 10, were led through the Croquet Association's Silver Course by Cliff Jones, Chairman of the Coaching Committee, gaining much information on the skills and tactics of the more advanced game open to lower handicap players.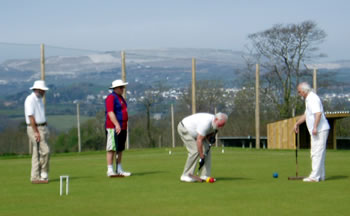 Pre-Silver Coaching Course Course participants
(left to right): -
Tony Backhouse, Nigel Grant, Malcolm Hooper
with Croquet Association Coaching Chairman,
Cliff Jones.
Cliff praised the Club's progress in both competitions and membership recruitment which has occurred since his last visit in May 2005 for the Official Opening Ceremony.
The Club's Open Day will be on Bank Holiday Monday, 7th May, from 10.30 to 5.0, providing an opportunity to ' Try Croquet'.
A New Members Beginner's Course will commence on Wednesday 9th May.
---
The Club is located at Porthpean, opposite the Golf Club and next to the Driving Range.
Enquiries to: 01726 832034 or 01726 71564