Sat & Sun 16 & 17 Sep 2006 - All England Handicap Finals at Nailsea
Cornwall's player, Nigel Grant, came so close to victory.
He won all 3 matches on Saturday, losing -1, to the eventual winner, David Eckford from Woodhall Spa, Lincolnshire, on Sunday morning, then went on to win his 5th and final game in the afternoon.
Thus a very close result with Nigel gaining a very well deserved 2nd place, the 16 players in the Finals having been selected from their respective divisions from all over England a couple of weeks ago.
Photos of Nigel preparing for the All England Handicap.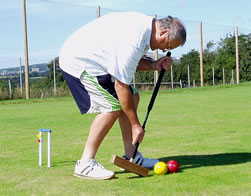 Overall results: -
Winner: David Eckford (11, Woodhall Spa) with 5 wins
2nd: Nigel Grant (10, Cornwall) with 4 wins, quality of wins 10
3rd: Paul Kenworthy (9, Bury) with 4 wins, qow 7
4th: Bob Thompson (11, Nottingham) with 4 wins, qow 5
David Eckford gained a handicap reduction to 10
Iain Gaman (7, Guildford & Godalming) gained his Silver Merit Award
Paul Kenworthy gained his Bronze Merit Award.
---
Further information on the club from : 01726 832034,
or email the club (link on home page).