Sat & Sun 16 & 17 Sep 2006 - Club Finals Weekend
Cornwall Croquet Club, having completed two years of play on our home courts at Porthpean, celebrated the end of the 2006 competition season with 4 final matches this same weekend.
Golf Croquet Ladder - Jenny Burrows and Stephen Read were the finalists in the playing on the morning of Saturday in glorious sunshine.

Jenny won the first game 7 : 5, Stephen rallied to take the second 7 : 1.

The spectators were treated to great excitement in the third game when, at 4 : 1 to Jenny in the third, Stephen ran 2 hoops with 1 shot proceeding on to win that game 7 : 5, thus taking the match 2 : 1.
Sunday morning provided somewhat slower conditions following overnight rain, a relief from the very fast playing state during the very dry summer this year.


Rosemary Bradshaw Bowl - Tony Jennings and Stephen Read were the contestants in the final of the , Handicap Association Croquet Ladder, Stephen pegging out at plus 14, having failed to peg one of his balls at the first attempt, giving Tony a chance to make a few more hoops prior to conceding victory to Stephen.
Sunday afternoon's matches were for the Dowding Cup : David Edwards vs Paul Schofield on Court 1, and the Plymouth Cup : Colin Hadley vs Stephen Read (playing his third final on Court 2 this weekend!) with both matches very closely contested.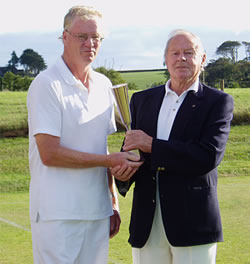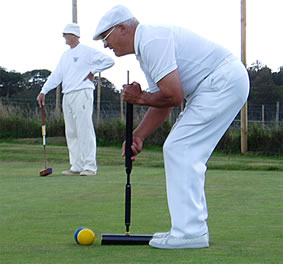 The Dowding Cup
being presented to David Edwards (+3T)
by Howard Rosevear - Club President.
The Plymouth Cup.
Colin Hadley - Runner-up in foreground,
Stephen Read winner (+2T) in background.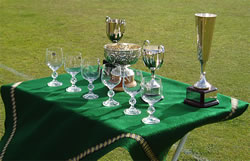 Some of the Club's Trophies for 2006
---
Anyone interested in taking up this fascinating game should ring : 01726 832034,
or email the club further information