Sat-Sun Aug 26-27, 2006 - President's Cup
SIX BATTLE IT OUT FOR PRESIDENT'S CUP
Cornwall Croquet Club's Bank Holiday Association Croquet Tournament with six contestants, Tony Backhouse (8), Colin Hadley (18), Tony Jennings (14), Stephen Read (18), Nigel Grant (12), and Ian Wilson (8), was for the cup given by their president, Howard Rosevear.
The Level Play feature of this particular event showed by Saturday evening when with 3 matches played by each entrant, the more experienced players were clearly in the lead.
Spectators were entertained to nail biting excitement during end play in two of the nine matches. Backhouse v Wilson had Backhouse on 4 back and peg, with Wilson on 6 and rover, Wilson hit in, went to the peg, peeling partner ball on the way, missed the peg with one ball, pegged out the other. Backhouse then hit in, went to peg, but failed to peg out. Play toed and froed for a while, with Wilson winning with a brilliant peg shot from corner 1.
Grant led at the end of the afternoon with a win in his match v Jennings, again an exciting end, Grant on peg and 4 back, Jennings, on penult with one ball, brought partner round and looked as though he would attempt to peel both balls to peg, however, he wired himself, time was called, Grant kept his balls widely spaced and away from penult in his remaining turn, thus Jennings only hope was a long hit in, which failed, thus Grant won plus 1 on time.
Sunday started with Grant in the lead, having 4 wins in hand, things hotted up after lunch with both Backhouse and Wilson each gaining another match to equal the leader, thus the referee, Richard Griffiths, had to add up all the hoop points to find a tournament winner.
Howard Rosevear was clearly delighted to present his President's Cup to Tony Backhouse the club's chairman, particularly in this second year of serious competitive croquet at Porthpean.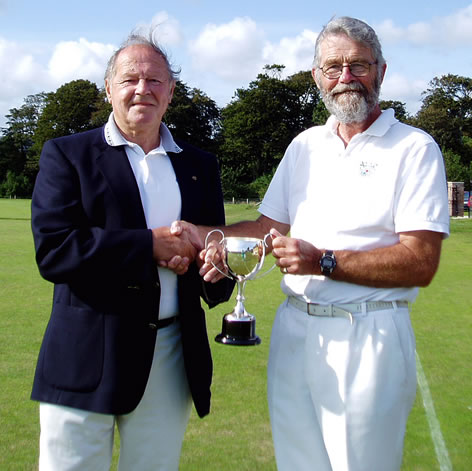 Howard Rosevear presenting Presidents Cup to Tony Backhouse.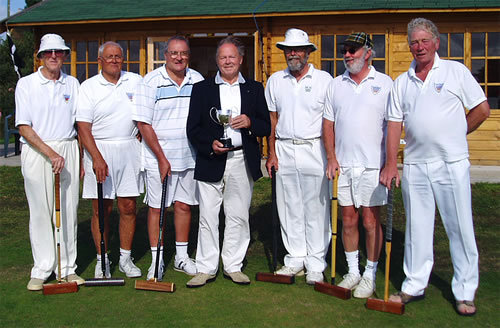 Players in the President's Cup. Left to right: Stephen Read, Colin Hadley, Nigel Grant, Howard Rosevear(President), Tony Backhouse(Winner), Ian Wilson, Tony Jennings.
---
Report & Photos by Rosemary Bradshaw, press officer for Cornwall Croquet Club.
Further information on Cornwall Croquet Club : 01726 71564/832034.