Thu Aug 10, 2006 - SWF Golf Croquet League v Nailsea (at home)
SIGNIFICANT WIN FOR CORNWALL
In fine but windy conditions, the Cornwall Croquet Club registered a 13 to 7 win at home, at Porthpean, against a team from Nailsea, near Bristol.
This was the last of four games played against teams in the SW Federation Golf Croquet League, of which the Cornwall team has won two.
Considering that this is the first year the club has entered a team in this league, the results have been encouraging for the future.
In order to give players experience, different players were used in the four doubles games.
Handicaps in brackets.
The Cornwall Team was:- Nigel Grant, captain, (4), Barry Edwards (6), David Edwards (5), Stephen Read (5), Lynda Everett (6), Penny Rowe (6), Audrey Setterfield (6) and Jacquie Neville-Webber (6).
The Nailsea team was:- Mary Barnes (3), Ron Harridge captain, (4), Brenda Roynon (6) and Brian Roynon (6).
Final Score:

Cornwall 13 Nailsea 7

Photo by Ron George. Report from Rosemary Bradshaw - press officer for Cornwall Croquet.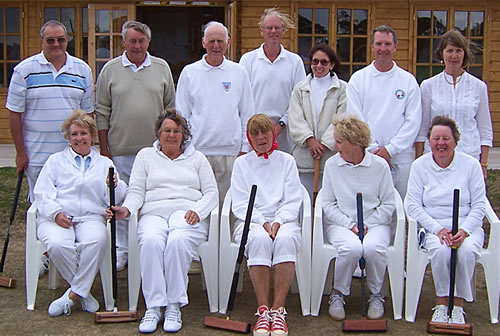 Left to Right:-
Standing: Nigel Grant(C), Ron Harridge(N), Stephen Read(C), David Edwards(C), Penny Rowe(C),
Brian Roynon(N), Jacquie Neville-Webber(C).
Seated: Lynda Everett(C), Audrey Setterfield(C), Barry Edwards(C), Brenda Roynon(N), Mary Barnes(N).
---
Get more club details by telephoning 01726 71564 or 832034