Fri Aug 4, 2006 - SWF B League v Exeter (at home)
CORNWALL THROUGH TO SEMI-FINAL
Cornwall won their home match versus Exeter 5 : 2 on Friday, 4th August.
As the club have won all their matches in the first round they are guaranteed a place in the Semi- Finals of the South West Federation B League which will be played at Sidmouth on Sun, Sep 3, 2006.
The Cornwall team was : Paul Schofield, Ron George, Stephen Read and David Edwards with Colin Hadley as non playing captain on this occasion.
Exeter was represented by : Ruth Urch (captain), Dick Hoffman, Murray French and Brian Leftbridge.
Final Score: Cornwall 5, Exeter 2
Report & Photograph by Rosemary Bradshaw - press officer Cornwall Croquet Club.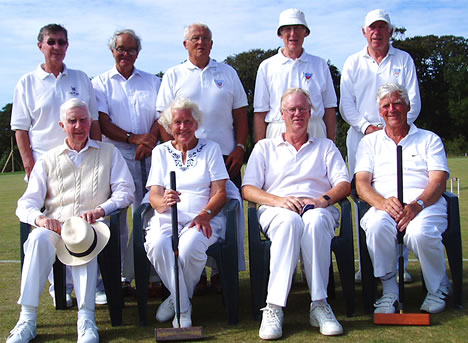 Left to Right Standing: Brian Leftbridge (E), Murray French (E), Colin Hadley (C Capt.),
Stephen Read (C), Paul Schofield (C),
Seated: Dick Hoffman (E), Ruth Urch (E Capt), Daved Edwards (C), Ron George (C).
---
Get more club details by telephoning 01726 71564 or 832034