Thu Jul 6, 2006 - SWF Federation league v Sidmouth (away)
At Sidmouth on 6th July, the Cornwall Croquet Club's Federation League team was narrowly beaten 2 - 3 by a Sidmouth trio.
In the morning's matches, Tony Backhouse and Nigel Grant managed to seize defeat from the jaws of victory. Having gained a substantial lead and on the point of winning, they each made a tactical error, allowing their opponents the opportunity to catch up and then achieve a narrow win at 26 - 22.
Meanwhile Cornwall's Tony Jennings lost to the more experienced David Clarke 19 - 26.
In the afternoon matches with all to win, Tony Backhouse (Cornwall) beat Sue Rogers 26 - 20 and Nigel Grant (Cornwall) beat David Clarke 26 - 16. Meanwhile Tony Jennings (Cornwall), battling it out with Robert Hammond, finally lost when time was called with the narrowest margin by 20 - 21.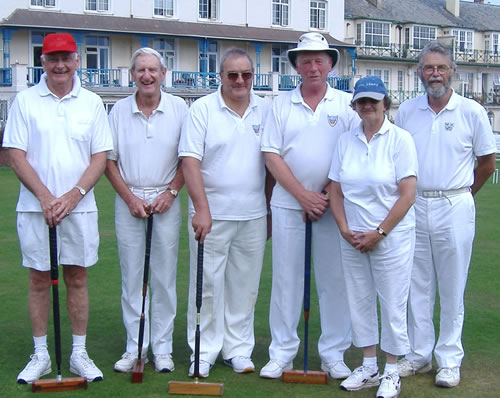 Team Photograph, l to r, with (C) for Cornwall and (S) for Sidmouth, David Clarke (S), Robert Hammond (S), Nigel Grant (C), Tony Jennings (C), Sue Rogers (S), Tony Backhouse (C)."
Photo & report by Tony Backhouse)

Final Score: Sidmouth 3, Cornwall 2.
---
Croquet Enquiries to 01726 71564.