Sun Jun 25, 2006 - SWF GOLF CROQUET v KINGSTON MAURWARD (away)
Playing away in the Southwest Federation Golf Croquet League at Kingston Maurward(Dorchester) Cornwall Croquet Club lost to the more experienced home side by 7-13.
Constant rain throughout the day was no deterrent in an enjoyable and closely fought match with 9 games decided on the golden hoop.
The Cornish Club was represented by Stephen Read (5, Captain), Margaret Read (6), Ron George (6) and Pam George (6).
The Kingston Maurward were Tess Burt (2, Captain), Kath Burt (0), Kevin Stephenson (6), Ron Burt (6), and Tony Millar (6).
Note: Numbers in ( ) are the handicaps.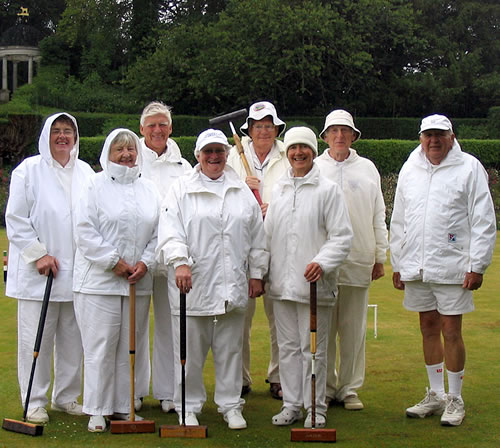 Cornwall (C) & Kingston Maurward (KM) teams. Photo by S. Read.
Teams left to right:- Kath Burt(KM), Pam George(C), Ron George(C), Tess Burt(KM),
Tony Miller(KM), Margaret Read(C), Stephen Read(C), Ron Burt(KM).

Final Score: Kingston Maurward 13, Cornwall 7.
---
Croquet Enquiries to 01726 71564.