Sat-Sun Jun 10-11, 2006 - Club Doubles Tournament (Wilson Salvers)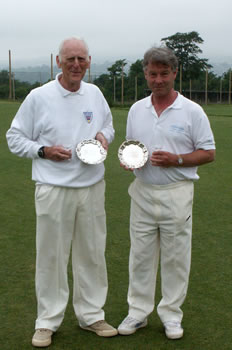 The Winners: Stephen Read (left), Peter Cutting (right).
The contest was close, the final result did not become apparent until the last of the matches were played on Sunday afternoon.
The contestants were :
Nigel Grant and David Edwards(winners in 2005),
Tony Jennings and Colin Hadley,
Rosemary Bradshaw and Margaret Read,
Tony Backhouse and Ian Wilson,
tephen Read and Peter Cutting (2006 winners).
The matches were watched by a number of club members and some potential members.
Report by Rosemary Bradshaw Press Officer Cornwall Croquet Club (Tel. 01726 832034 )