CORNWALL CROQUET CONTINUES THROUGH THE WINTER
The Cornwall Croquet Club at Porthpean remains open throughout the year; an enthusiastic band of players took advantage of the mainly fine weather over the Festive Season.
On New Year's Day the Winter Ladder was headed by Margaret Read, followed by Stephen Read and Tony Jennings.
Colin Hadley, one of the newer members who joined during the summer, was in a very respectable fourth place.
"Sports Saturday" to be held in Aylmer Square, St.Austell, on Sat Jan 14th
Croquet will be featured at the "Sports Saturday" (Sat Jan 14) with both local clubs, Cornwall and Fowey, having representative members present.
This will be a good opportunity to gain some insight into this fascinating sport and perhaps arrange a taster session of play.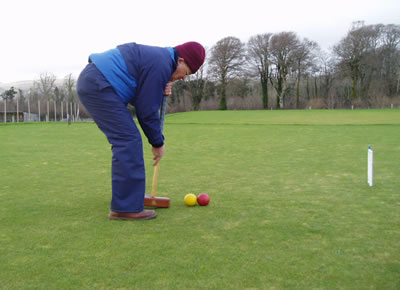 Colin Hadley playing through the winter at Cornwall Croquet Club, Porthpean.
Picture by Rosemary Bradshaw press officer for Cornwall Croquet Club.
Tel. 01726 832034.