Sun-Mon 10-11 Sep 2017 - Club Golf Croquet Handicap Singles Trophy
Winner: Kathryn Smith 7-5
Golf Croquet Handicap Competition Eighteen members battled not only each other but appalling weather conditions for top honours in the Annual Golf Handicap Croquet Tournament. The blustery winds and sharp heavy showers on both days made for cold uncomfortable play on occasions but even these didn't stop play. Each player had 8 games to play over the two day event but all remained cheerful and determined. Fortunately the weather improved on Monday afternoon allowing the final to be played almost shower free.
This took place between Fiona Russell and Kathryn Smith. Both ladies are very active in the club and regularly represent it in matches with other clubs in the South West Federation travelling as far away as Weston super Mare in the North and Poole (Dorset) in the east and many venues in-between.
The final, which was watched by all other competitors, was a close game befitting the contenders' skills and experience and was won 7 – 5 by Kathryn Smith.
Before all enjoyed a light tea the Trophy was presented to Kathryn by the club President, Howard Rosevear.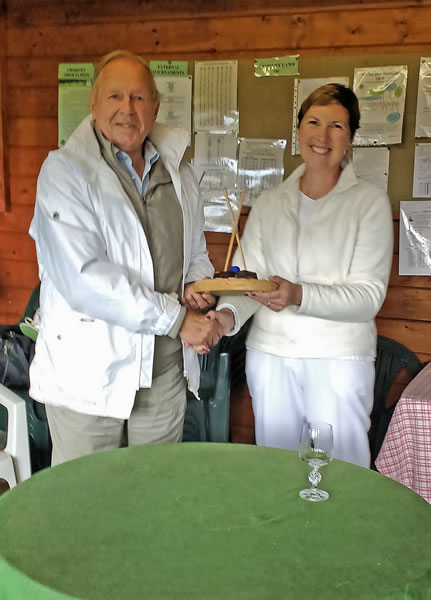 Howard Rosevear (Club President) presents the Golf Croquet Handicap Singles Trophy to Kathryn Smith (winner)
Report and Photo by Rhona Foster.